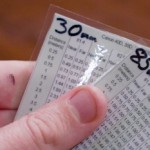 Normal depth of field tables list the depth of field for any combination of aperture and subject distance for a single focal length. I find this a pain in the ass for several reasons: firstly, I have to carry around several charts, secondly if I'm using a zoom lens I have to guess what focal length I'm using, and finally I generally find it easier to gauge the size of the subject rather than the distance to it.
This chart is my solution.
For photos of subjects that are relatively close compared to the lens' hyperfocal distance, depth of field depends only on subject size and aperture. A portrait taken with a 35mm lens at f/2.8 lens has around the same depth of field as one taken with a 100mm lens at f/2.8, because although the 100mm lens' aperture is physically larger, you have to stand further away to get the whole subject in the frame, and the two cancel out. This is one of the natural laws of depth of field.
This chart lists the depth of field for any combination of subject size and aperture. It therefore applies to all focal lengths: you don't need to know how far away your subject is or what focal length you're using, just how big the subject is.
I have used the equation from Wikipedia:

This equation becomes inaccurate near the lens' hyperfocal distance, so I have marked the hyperfocal distance on the chart as four light-grey to dark-grey bands representing 24mm, 50mm, 100mm and 200mm lenses. Stay out of the grey area for your lens and this chart is accurate. If you print this chart, tell your web browser to print backgrounds so that you get the grey shades (in IE, Tools > Internet Options > Advanced > Printing > Print backgrounds).
Click here to open in a new window.
Enjoy...
Caveats:
The calculations in this chart only work when a subject is close relative to the lens' hyperfocal distance. This is generally the case for small subjects and long lenses. The light to dark grey shaded areas represent the boundary for 24mm, 50mm, 100mm and 200mm lenses at which inaccuracies start to become significant (more than 50%).
This chart uses a circle of confusion of 1/1250 of the image width to produce "acceptably sharp" images. If it is important to you to get images as sharp as your camera is capable of capturing, read the sidebar titled "super sharp shooter" on this article: www.berniecode.com/writing/photography/depth-of-field.
This chart implies that the depth of field is symmetrical, which it isn't: close to the hyperfocal distance there is a lot more depth of field behind the focal plane than in front of it. However, close to the hyperfocal distance this chart doesn't work anyway because focal length becomes important, so that's not really an issue.