You might want to skip to the installation instructions or read this article in Serbo-Croatian care of Jovana Milutinovic, French from Kate Bondareva, or Kazakh by John Vorohovsky.
When I started writing a travel blog almost half a year ago, I had a specific vision of how it would look. I wanted a big world map, onto which I would drop little pins. Each pin would be a single blog post, and clicking that pin would allow you to read the post in one of those little Google Maps speech bubble thingies.
There is a popular WordPress plugin called WP Geo that allows you to record the latitude and longitude of each post. WP Geo stores the necessary information in the database and has an excellent admin interface. Unfortunately the maps it provides are quite the wrong way round for my idea: WP Geo puts a little map onto your post, I wanted to put my little posts onto a big map!
So I wrote a WordPress plugin to extend WP Geo and add a big sexy map. In order to use it, you need WP Geo installed. To see it in action, check out my own travel map. The plugin is called:
WP Geo Big Map
(Damn, I should have called it WP Geo Big Sexy Map, but it's too late to change it now)
After installing WP Geo and this plugin, create a new page with nothing except the shortcode [big_map]. This magic shortcode replaces the whole page with a huge map, and all your posts will show up as pins on the map.
The shortcode has a number of customisation options which are detailed on the plugin page on wordpress.org.
Some screenshots: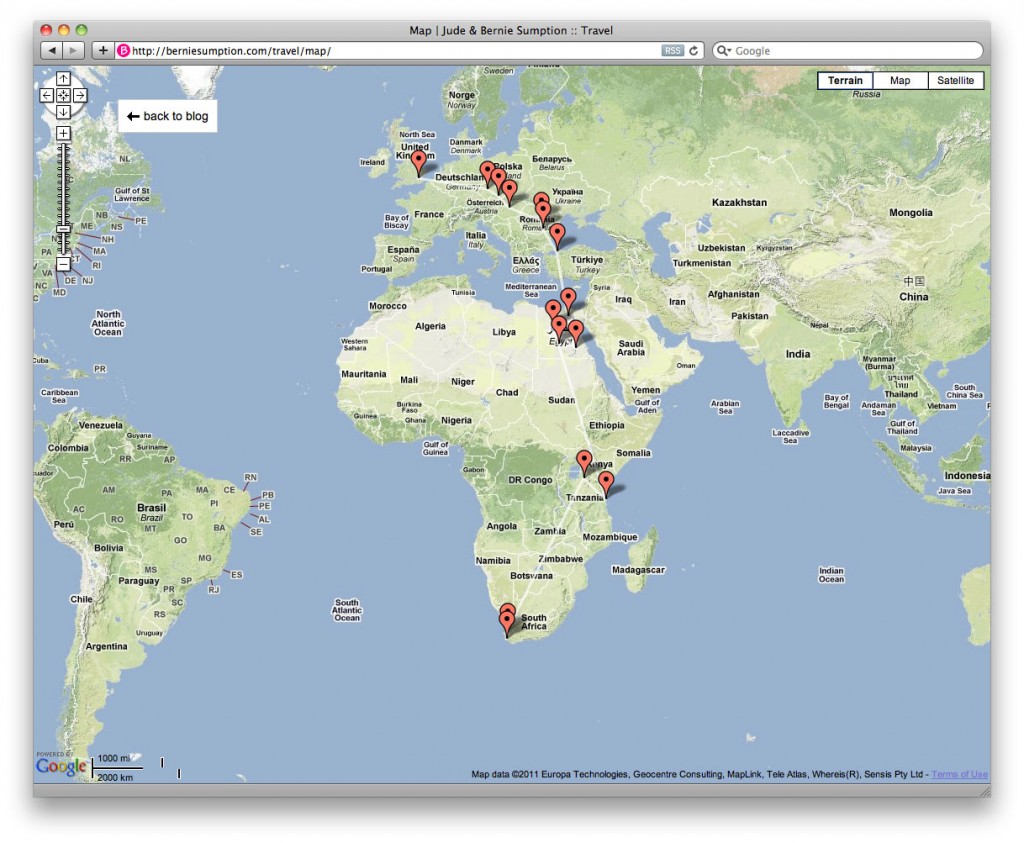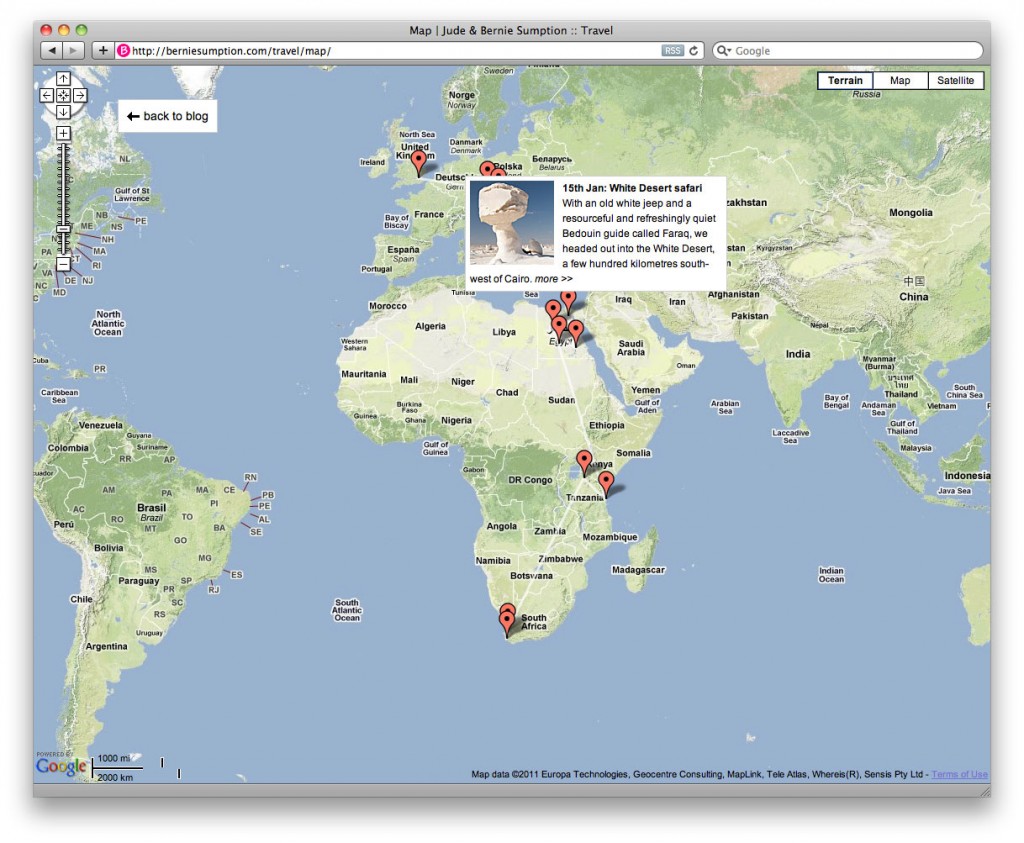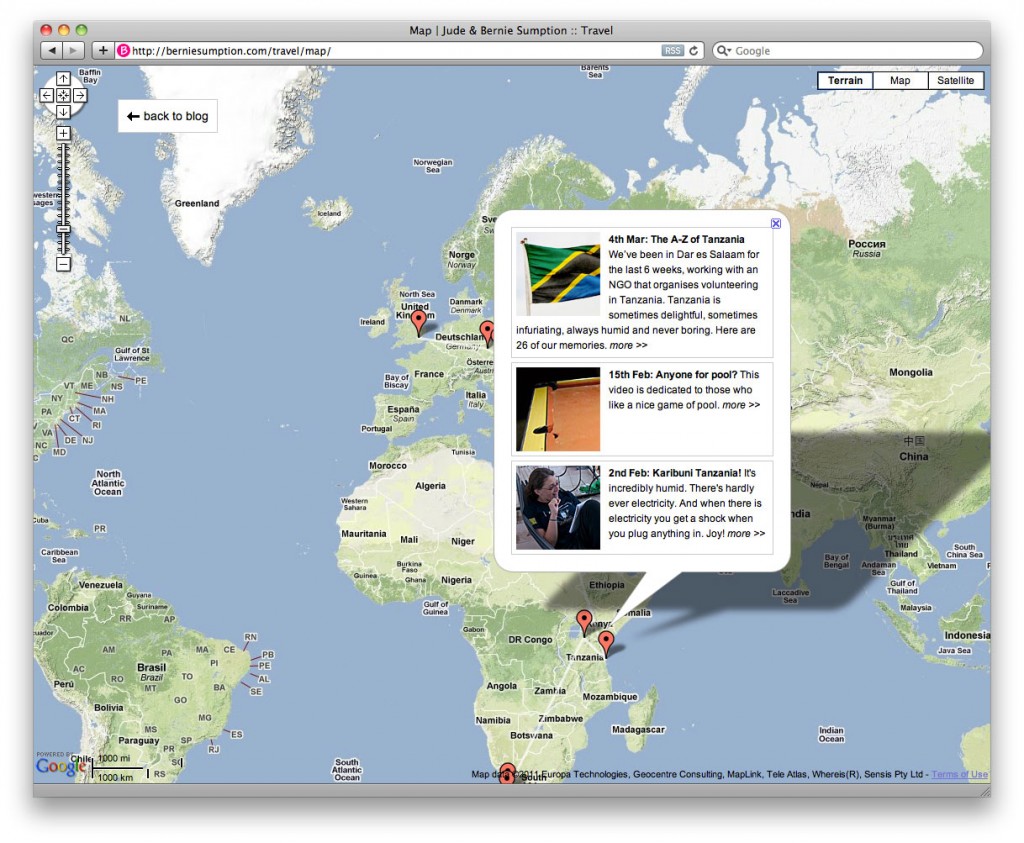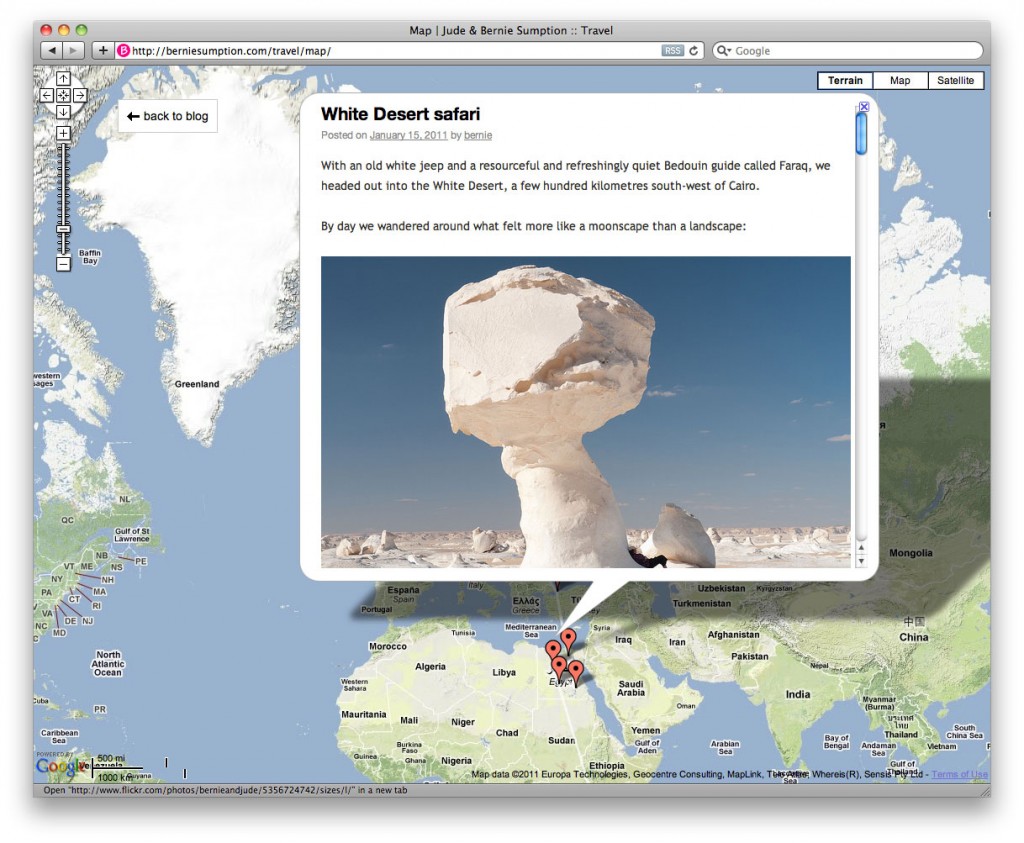 Installation
NOTE: WP Geo Big Map is tuned to work with the Twenty Ten theme that is the default for WordPress 3.x. If you're using a different theme that is not based on Twenty Ten, consult the plugin's readme.txt for instructions.
The easiest way to install the plugin is through the WordPress dashboard. Log in to your site, go to "Plugins > Add New", search for "big map" and install it.
If you want to see the source code, or install the plugin manually, you can download it from my GitHub repository:
Feedback
Any feedback is welcome, as always. I can be reached at bernie@berniecode.com.